Dumplings Mean Family
Jennifer's new children's book, Dumplings Mean Family is told from her son Ethan's perspective as he shares what it was like to join their family after his adoption.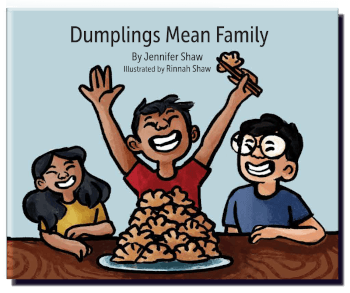 When Ethan and his siblings are adopted from China to the United States, everything seems so strange and different. Their new American family doesn't even know how to make Chinese food! The children are worried. Will they ever get to eat their favorite meals again? For Ethan's family, embracing two cultures means learning to fold and pinch their way to dumplings that taste like home.
Truly a family project, Jennifer's oldest daughter, Rinnah, served as illustrator for this heartwarming book celebrating the truth that families can be strong and united when they commit to loving each other for who they truly are. As Ethan says, "We may be different in some ways, but we are one family!"
Details
32 pages, illustrated children's hardcover
Themes: adoption, cultural diversity, respect, love of family, food
Book extras: Chinese vocabulary, Shaw Family Dumpling Recipe
Where To Get It
Dumplings Mean Family can be purchased in the following ways:
What People Are Saying
Dumplings Mean Family is one of the most heartwarming books I've ever read. It's so rare and refreshing to find a children's book that discusses adoption along with the many joys and struggles it encompasses; Dumplings Mean Family did so perfectly! 非常好 (Well done!)
We have two boys adopted from China. This book does an amazing job illustrating how the small things we do as a family can celebrate and honor our children's heritage through new family traditions.
As an adoptee myself, Dumplings Mean Family is a rare treat, a story told from the perspective of the kids! Dumplings Mean Family captures the joy and complexity of becoming a family together.
My sons are adopted from China and this book does a wonderful job of reflecting the experiences we have had learning to incorporate Chinese food and traditions in our family. We can't wait to try this new dumpling recipe!
As an elementary educator, and an adoptive mama myself - I couldn't LOVE this book more! First and foremost, I love the reminder that even if our families look (or eat!) different, we are still a family. The way acceptance and tolerance are shown is so important for young readers. I am always looking for quality stories to share with my class, and my own children, that place value on accepting and honoring our differences, and Dumplings Mean Family does this so very well. And let's not overlook the amazing illustrations in this book! The stunning detail and the bright colors drew me in from the second I opened it. I love that the text, AND the images are representative of "real life". I can't wait to share this book with my students, and my family.