Special Offers
Free shipping on all orders over $25!
Sign up for the email newsletter to receive the latest special offers - Sign Up Now!
Offer
List Price
Special Price
Buy
Dumplings Mean Family (Hardcover) - 20% off
See https://dumplingsmeanfamily.com for more information or to schedule an author visit.
$19.95
$15.95
Albums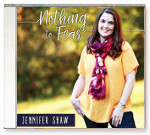 Jennifer's most recent full album, Nothing to Fear, provides another set of impactful ballads, refreshing worship anthems, and updated renditions of classic hymns. The title song proclaims the power of trusting in God in each step of life and how in Him we can walk without fear, and "How Far Love Goes" of the great lengths God has gone to show His love for us. "Greater Love" and "Forever Family" highlight insights Shaw has gained with adoptive families and her own adoption experiences in the past few years. This album encourages us all to look to God and find that praising Him and living for Him is key to living the abundant life.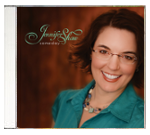 Taking the listener on a musical journey of hope and encouragement from the first note to the last, Jennifer's album, Someday, is the perfect mixture of beautiful ballads and worship anthems co-written by Jennifer, along with fresh renditions of classic hymns. "Your Child," written for special needs kids, will move every parent with its poignant and touching lyrics. "To Be Love" challenges every Christian to fulfill the call to love the least among us. The title song reminds us all that our everyday trials will one day be forgotten when we reach our eternal home. This is a CD that you will play over and over again!

With the help of renowned Nashville producer and Lifeway songwriter
Paul Marino
, this album features Jennifer's signature crystal vocals on songs that offer honest emotions and poignant lyrics. The CD's first radio single,
Your Great Name,
became a top five hit on the national radio charts. Featuring some of the most polished and sought-after musicians in Nashville,
Love Broke Through
includes lyrics inspired by Jennifer's tour of Kenya and the UK, as well as original worship songs offering hope, comfort and truth to every listener.

Finding Beauty, Jennifer's second full album, features eleven new songs plus a bonus track, A Christmas Song, and is available now.

Be Still
is Jennifer's debut album, begun as a Christmas gift to her father, Dave Chilcoat. Read more about his story in
Nobody Tells a Dying Guy to Shut Up
available
here
.
Books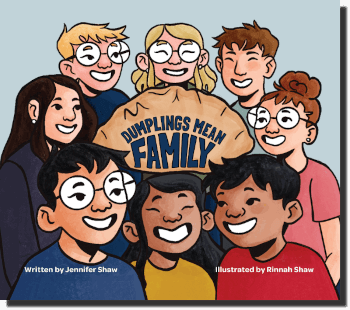 Jennifer's new children's book, Dumplings Mean Family is told from her son Ethan's perspective as he shares what it was like to join their family after his adoption.
When Ethan and his siblings are adopted from China to the United States, everything seems so strange and different. Their new American family doesn't even know how to make Chinese food! The children are worried. Will they ever get to eat their favorite meals again? For Ethan's family, embracing two cultures means learning to fold and pinch their way to dumplings that taste like home.
Truly a family project, Jennifer's oldest daughter, Rinnah, served as illustrator for this heartwarming book celebrating the truth that families can be strong and united when they commit to loving each other for who they truly are. As Ethan says, "We may be different in some ways, but we are one family!"
For more information and additional purchasing options, click here. See also the full Dumplings Mean Family web site for even more information or to schedule an author visit.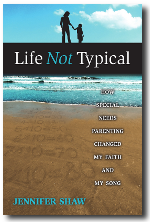 Before a series of "Job-like" events hit her life, Jennifer's story began as a successful classical vocalist as she graduated from the prestigious Manhattan School of Music. She sang with famous symphonies, starred in theater productions and operas, taught voice at the local university - it was all going well. Then, a pregnancy went terribly wrong and Jennifer nearly died. A few weeks later, her beloved father was diagnosed with the fatal Lou Gehrig's Disease and eventually passed away. After going through a successful pregnancy, her baby boy's behavior became more erratic and frightening, leading to a diagnosis of Sensory Processing Disorder (SPD), thrusting Jennifer and her husband into the roles of parents of a special needs child. To our knowledge, this is the first book of any genre to talk about SPD from the parent's perspective. Jennifer's desire for this book is to offer much-needed hope and practical help to other parents who may be going through similar circumstances with special needs kids. It is also a book of encouragement, that in the midst of any trial or circumstance, God's grace is ever present. For more information and additional purchasing options, click
here.
Nobody Tells a Dying Guy to Shut Up by Dave and Beth Chilcoat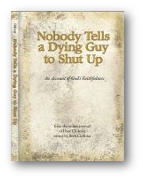 If you knew you had only a few years to live, how would you use that time? Would you allow despair to overwhelm you or would you find a way to still have a life? How would you keep the fear of death from ruining the days you had left? When Dave Chilcoat was diagnosed with Lou Gehrig's disease, a fatal illness for which there is no treatment and no cure, he had to face these questions in reality. The day he received his diagnosis Dave began writing a journal. Then, to keep family and friends updated on his condition, he began posting his journal online. He wrote weekly for nearly three years and his chronicle was eventually read by tens of thousands around the world. This book is the heart of that journal, as edited by his wife Beth Chilcoat. It is the living account of an unshakable faith in God's goodness and grace, and a heart open to God's purposes. For more information and additional purchasing options, click
here.
Other Items
Scripture Memory Songs for Kids and Families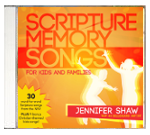 This album includes 30 word-for-word Scripture memory songs (NIV) plus 9 bonus Christian-themed kids songs! These songs were all developed for use in a Vacation Bible School curriculum for Faith Covenant Church in Westerville, OH. Each of the mini-albums is for a different year with a different themed play. There are five Scripture songs per year, one for each day of VBS, plus bonus theme songs and roll calls for the classes. The Scripture songs are all word for word from either the 1984 or the 2011 New International Version (NIV) of the Bible and include the references. They have since been used by Sunday schools, Christian schools, other VBS programs, homeschoolers, and families, and we hope they are a blessing to you too!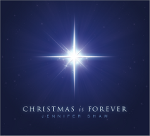 Jennifer's seasonal offering, a bright Christmas card with a CD tucked inside, delivers arrangements of two classic Christmas hymns along with a brand new contemplative carol all her own. Christmas is Forever proclaims that the story of Jesus began long ago but continues beyond any season. It makes a perfect Christmas greeting with a small gift when a card alone just won't do.
The following songs are available as track MP3s that include the full instrumental background and all backing vocals for the radio versions of Jennifer's songs. Please see the
Albums tab
above for more details on the songs themselves, including lyrics, preview clips, etc. Please feel free to
Contact Us
if track versions of other songs would be useful.
Track
Price
Buy
All God's Children
$5.00
God Loved the World
$5.00
How Far Love Goes
$5.00
Life Not Typical
$5.00
Promised Land
$5.00
Shine On Us
$5.00
Someday
$5.00
To Be Love
$5.00
To Your Glory
$5.00
Until the Day of Christ
$5.00
You Are Glorious
$5.00
Your Child
$5.00
Your Great Name
$5.00