Life Not Typical
"I didn't know as I was falling how deep this pit would be..."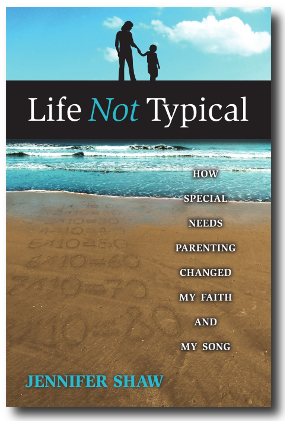 Jennifer Shaw's life looked picture perfect. With a happy marriage, wonderful children, and a successful singing career, her dreams had come true. But within a short period of time, her ideal life began to spiral out of control. Her career was changing, a devastating miscarriage nearly ended her life, her beloved father was diagnosed with a fatal illness, and her youngest child, Toby, began to exhibit extreme and frightening behavior. Jennifer and her husband struggled to determine why their little boy screamed when drops of water touched his skin, why he would not walk on grass and could not eat. Experts told them Toby might grow out of it, but Jennifer could not shake the certainty that these mystifying symptoms meant something was terribly wrong with their young son.
In Life Not Typical, Jennifer shares her heart-wrenching journey of tragedy, loss, and learning to live with the challenges caused by Sensory Processing Disorder. Jennifer shares her story with refreshing honesty, reliving raw emotions as her life plans began to unravel. In her darkest moments, when Jennifer began to feel as though she couldn't go on, she found the tender hand of God gently holding and guiding her. And in that place of safety, she discovered a sustaining hope that deepened her faith and gave her the courage to fight another day.
Where To Get It
Life Not Typical can be purchased in any of the following ways:
What People Are Saying
From confusion and frustration to hope and a miracle, Jennifer's story is compelling and honest. In the midst of her pain, she learns great truths – there is a God, He is faithful, and His promises are trustworthy. You will love this book!
An inspiring book filled with hope which clearly demonstrates the profound impact early intervention can have on special needs children. Highly recommended!