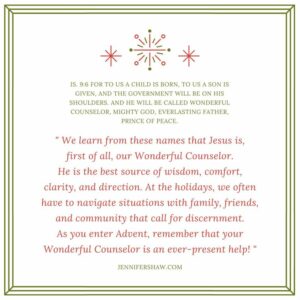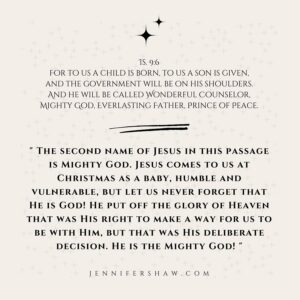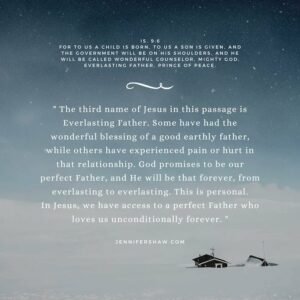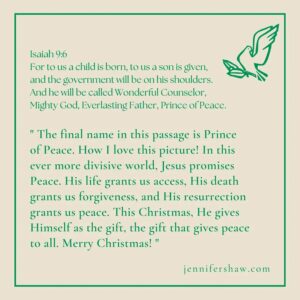 Isaiah 9:6 reads:
For to us a child is born,
to us a son is given,
and the government will be on his shoulders.
And he will be called
Wonderful Counselor, Mighty God,
Everlasting Father, Prince of Peace.
If you've ever sung Handel's Messiah (as I have, many, many times!), you now have that beautiful chorus ringing in your head. I've always loved this verse, and usually my mind goes to the gift that Jesus is. That He was given to the world, and that because He came, one day He will rule justly and there will be peace on earth!
This year, though, as I looked at the verse afresh, the second half really struck me, and I started thinking about what each of those character attributes mean to us.
WONDERFUL COUNSELOR
Jesus is, first of all, our Wonderful Counselor. He is the best source of wisdom, comfort, clarity, and direction. At the holidays, we often have to navigate situations with family, friends, and community that call for discernment. As you enter Advent, remember that your Wonderful Counselor is an ever-present help!
MIGHTY GOD
The second name of Jesus in this passage is Mighty God. Jesus comes to us at Christmas as a baby, humble and vulnerable, but let us never remember that He is God! He put off the glory of Heaven that was His right to make a way for us to be with Him, but that was His deliberate decision. He is the Mighty God!
EVERLASTING FATHER
Some have had the wonderful blessing of a good earthly father, while others have experienced pain or hurt in that relationship. God promises to be our perfect Father, and He will be that forever, from everlasting to everlasting. This is personal. In Jesus, we have access to a perfect Father who loves us unconditionally forever.
PRINCE OF PEACE
How I love this picture! In this ever more divisive world, Jesus promises Peace. His life grants us access, His death grants us forgiveness, and His resurrection grants us peace. This Christmas, He gives Himself as the gift, the gift that gives peace to all.
Which of these character traits of Jesus, our greatest gift, speak the most to you today? I hope you know Him, and all the blessings of this season. Merry Christmas!