Special Offers
Sign up for the email newsletter to receive the latest special offers - Sign Up Now!
Offer
List Price
Special Price
Buy
10 copies of Christmas is Forever (CD cards) - 40% off!
$50
$30
Looking for the new Scripture Memory Songs album?
Click here
!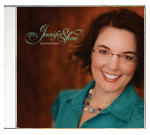 Taking the listener on a musical journey of hope and encouragement from the first note to the last, Jennifer's most recent full album, Someday, is the perfect mixture of beautiful ballads and worship anthems co-written by Jennifer, along with fresh renditions of classic hymns. "Your Child," written for special needs kids, will move every parent with its poignant and touching lyrics. "To Be Love" challenges every Christian to fulfill the call to love the least among us. The title song reminds us all that our everyday trials will one day be forgotten when we reach our eternal home. This is a CD that you will play over and over again!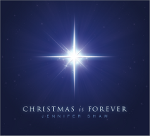 Jennifer's seasonal offering, a bright Christmas card with a CD tucked inside, delivers arrangements of two classic Christmas hymns along with a brand new contemplative carol all her own.
Christmas is Forever
proclaims that the story of Jesus began long ago but continues beyond any season. It makes a perfect Christmas greeting with a small gift when a card alone just won't do.
Want more than 50? For larger orders, please
email us
for bulk pricing.

With the help of renowned Nashville producer and Lifeway songwriter
Paul Marino
, this album features Jennifer's signature crystal vocals on songs that offer honest emotions and poignant lyrics. The CD's first radio single,
Your Great Name,
became a top five hit on the national radio charts. Featuring some of the most polished and sought-after musicians in Nashville,
Love Broke Through
includes lyrics inspired by Jennifer's tour of Kenya and the UK, as well as original worship songs offering hope, comfort and truth to every listener.

Finding Beauty, Jennifer's second full album, features eleven new songs plus a bonus track, A Christmas Song, and is available now.

Be Still
is Jennifer's debut album, begun as a Christmas gift to her father, Dave Chilcoat. Read more about his story in
Nobody Tells a Dying Guy to Shut Up
available
here
.