Special Offers
Sign up for the email newsletter to receive the latest special offers - Sign Up Now!
Offer
List Price
Special Price
Buy
Nothing to Fear (CD) - buy two, save $5 and get a

FREE CHRISTMAS CD CARD

!
$30
$25
10 copies of Christmas is Forever (CD cards) - 40% off!
$50
$30
Scripture Memory Songs for Kids and Families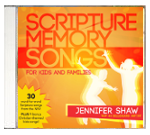 This album includes 30 word-for-word Scripture memory songs (NIV) plus 9 bonus Christian-themed kids songs! These songs were all developed for use in a Vacation Bible School curriculum for Faith Covenant Church in Westerville, OH. Each of the mini-albums is for a different year with a different themed play. There are five Scripture songs per year, one for each day of VBS, plus bonus theme songs and roll calls for the classes. The Scripture songs are all word for word from either the 1984 or the 2011 New International Version (NIV) of the Bible and include the references. They have since been used by Sunday schools, Christian schools, other VBS programs, homeschoolers, and families, and we hope they are a blessing to you too!
Song
Preview
Lyrics
Price
Buy
Showdown
1. Showdown
Listen to 1. Showdown
$0.75
2. Turn From Evil and Do Good (Psalm 37:27-28)
Listen to 2. Turn From Evil and Do Good (Psalm 37:27-28)
$0.75
3. Eternal Life (John 5:24)
Listen to 3. Eternal Life (John 5:24)
$0.75
4. Light of the World (Matthew 5:14,16)
Listen to 4. Light of the World (Matthew 5:14,16)
$0.75
5. A New Creation (2 Corinthians 5:17-18)
Listen to 5. A New Creation (2 Corinthians 5:17-18)
$0.75
6. Overflow (Luke 6:45)
Listen to 6. Overflow (Luke 6:45)
$0.75
Lights, Camera, Action!
7. Lights, Camera, Action!
Listen to 7. Lights, Camera, Action!
$0.75
8. I am the Vine (John 15:5)
Listen to 8. I am the Vine (John 15:5)
$0.75
9. Love the Lord (Mark 12:30-31)
Listen to 9. Love the Lord (Mark 12:30-31)
$0.75
10. All Scripture is God-breathed (2 Timothy 3:16-17)
Listen to 10. All Scripture is God-breathed (2 Timothy 3:16-17)
$0.75
11. Act Justly, Love Mercy, Walk Humbly (Micah 6:8)
Listen to 11. Act Justly, Love Mercy, Walk Humbly (Micah 6:8)
$0.75
12. We are God's Workmanship (Ephesians 2:10)
Listen to 12. We are God's Workmanship (Ephesians 2:10)
$0.75
Truth Sleuths
13. Truth Sleuths
Listen to 13. Truth Sleuths
$0.75
14. God So Loved the World (John 3:16)
Listen to 14. God So Loved the World (John 3:16)
$0.75
15. I Have Overcome the World (John 16:33)
Listen to 15. I Have Overcome the World (John 16:33)
$0.75
16. The Word of God (Hebrews 4:12)
Listen to 16. The Word of God (Hebrews 4:12)
$0.75
17. Wisdom (James 1:5)
Listen to 17. Wisdom (James 1:5)
$0.75
18. We Wait in Hope (Psalm 33:20-22)
Listen to 18. We Wait in Hope (Psalm 33:20-22)
$0.75
God's Treasure
19. God's Treasure
Listen to 19. God's Treasure
$0.75
20. Treasure in Jars of Clay (2 Corinthians 4:7)
Listen to 20. Treasure in Jars of Clay (2 Corinthians 4:7)
$0.75
21. Treasures in Heaven (Matthew 6:20-21)
Listen to 21. Treasures in Heaven (Matthew 6:20-21)
$0.75
22. Command Them to Do Good (1 Timothy 6:18-19)
Listen to 22. Command Them to Do Good (1 Timothy 6:18-19)
$0.75
23. The Words of His Mouth (Job 23:12)
Listen to 23. The Words of His Mouth (Job 23:12)
$0.75
24. The Mystery of God (Colossians 2:2-3)
Listen to 24. The Mystery of God (Colossians 2:2-3)
$0.75
25. Sailing on a Pirate Ship
Listen to 25. Sailing on a Pirate Ship
$0.75
Trusting God in the Waves
26. Keep Your Eyes on Jesus
Listen to 26. Keep Your Eyes on Jesus
$0.75
27. Who Can Be Against Us? (Romans 8:28,31)
Listen to 27. Who Can Be Against Us? (Romans 8:28,31)
$0.75
28. God is Our Refuge and Strength (Psalm 46:1-2)
Listen to 28. God is Our Refuge and Strength (Psalm 46:1-2)
$0.75
29. Do Not Be Anxious (Philippians 4:6-7)
Listen to 29. Do Not Be Anxious (Philippians 4:6-7)
$0.75
30. Run the Race (Hebrews 12:1-2)
Listen to 30. Run the Race (Hebrews 12:1-2)
$0.75
31. I Am Convinced (Romans 8:38-39)
Listen to 31. I Am Convinced (Romans 8:38-39)
$0.75
32. No Doubt
Listen to 32. No Doubt
$0.75
God is Our Superhero
33. Count Me In
Listen to 33. Count Me In
$0.75
34. I Can Do Everything Through Him (Philippians 4:13,20)
Listen to 34. I Can Do Everything Through Him (Philippians 4:13,20)
$0.75
35. My Grace (2 Corinthians 12:9)
Listen to 35. My Grace (2 Corinthians 12:9)
$0.75
36. Those Who Hope in the Lord (Isaiah 40:31)
Listen to 36. Those Who Hope in the Lord (Isaiah 40:31)
$0.75
37. I Know the Plans (Jeremiah 29:11)
Listen to 37. I Know the Plans (Jeremiah 29:11)
$0.75
38. Proclaim the Power of God (Psalm 68:32-35)
Listen to 38. Proclaim the Power of God (Psalm 68:32-35)
$0.75
39. God is Our Superhero
Listen to 39. God is Our Superhero
$0.75